Economic Update: April 2022
Change State Economic Update - April 2022
Spring has sprung, at least where we have been hanging our hats lately. We hope that you and yours are getting outside and enjoying more time al fresco, too. Next month is an exciting time for us here at Change State – our third anniversary is coming up! More on that (and a fun new announcement) coming shortly, but for now please enjoy your monthly economic update.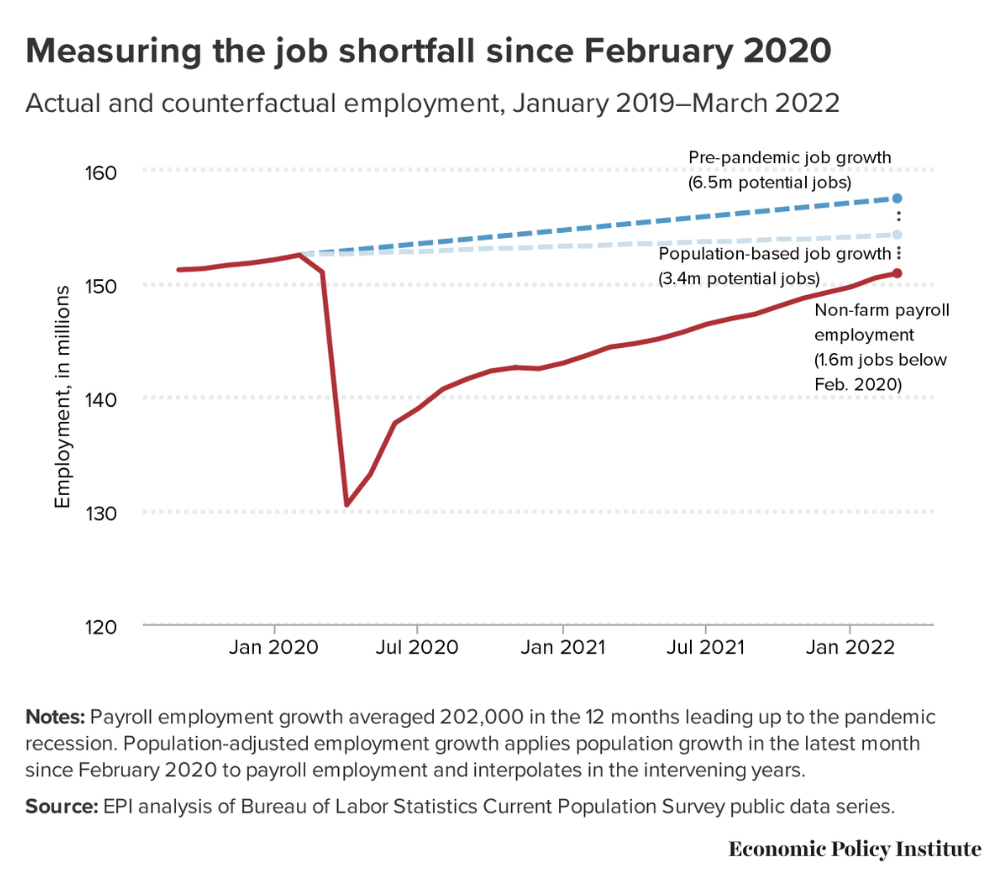 The March jobs report revealed the addition of 431,000 jobs and saw unemployment continue to fall – currently at 3.6%. Since the end of 2020, a total of 8.4 million jobs have been added to the economy. This sustained jobs growth is quite something: well over half a million jobs have been added per month on average for 15 months. While the US labor market is still 3.4 million jobs shy of pre-pandemic levels, it is well on track to hit that target before the end of 2022. This recovery is nearly 8 years faster than that of the Great Recession, and the fastest economic recovery since the 1980s.
This next chart is rather eye-popping as well. The rebound of the employment-to-population ratio (EPOP) has been significant. Prime age employment jumped to 80% in March, just one percent away from pre-pandemic levels. This is as good a sign as any for economists, with prime age employment being one of the leading indicators of the health of the jobs market.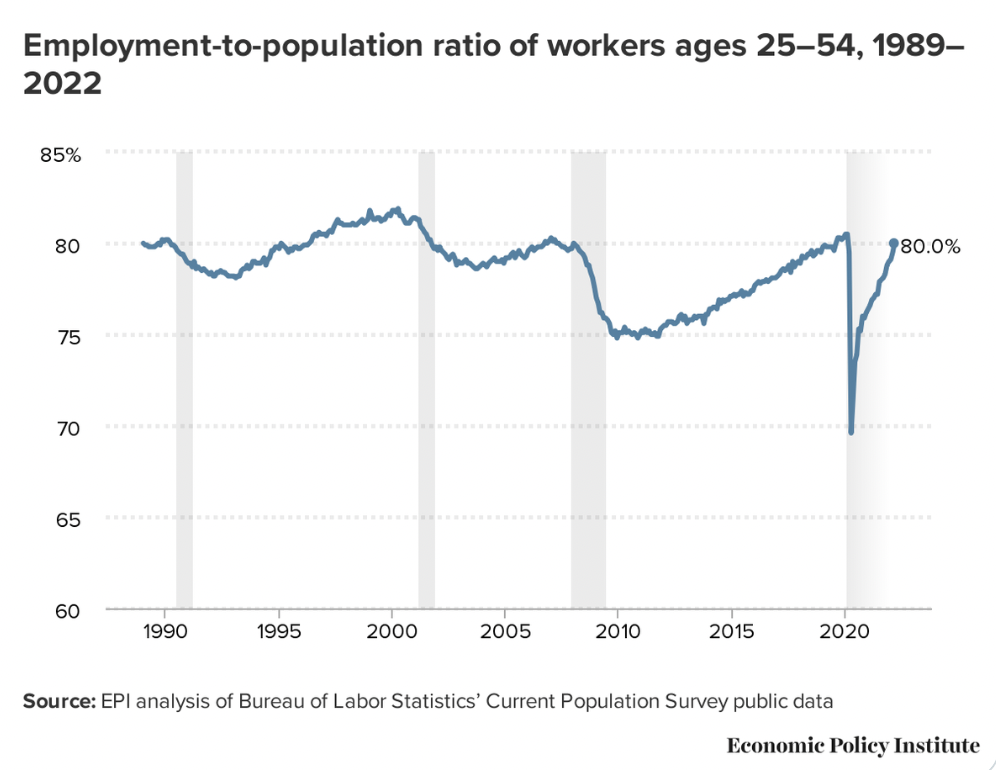 In March, every ethnic group also saw a drop in unemployment, including Black workers, who experienced the greatest percentage drop in unemployment since February and who have now seen unemployment drop for 3 months in a row. Unemployment among Black and Latino women is currently half what it was at the beginning of the pandemic – a hopeful sign that recovery is reaching those who need it, and that things are trending in the right direction.
​But with huge jobs growth at a time when the economy is already at or near full employment, why are so many still skeptical on the state of the economy? Inflation of course plays a role, as last year's robust wage growth cannot outpace a four-decade high inflation rate. Yet despite a months-long trend of positive jobs reports, why do many average Americans still believe the opposite about the jobs climate? Some think the media may be partly to blame.
What else for April?
(Sources: Economic Policy Institute, Washington Post, Wall Street Journal, CNBC, Fortune, CNN)
The Shift Towards Hybrid Work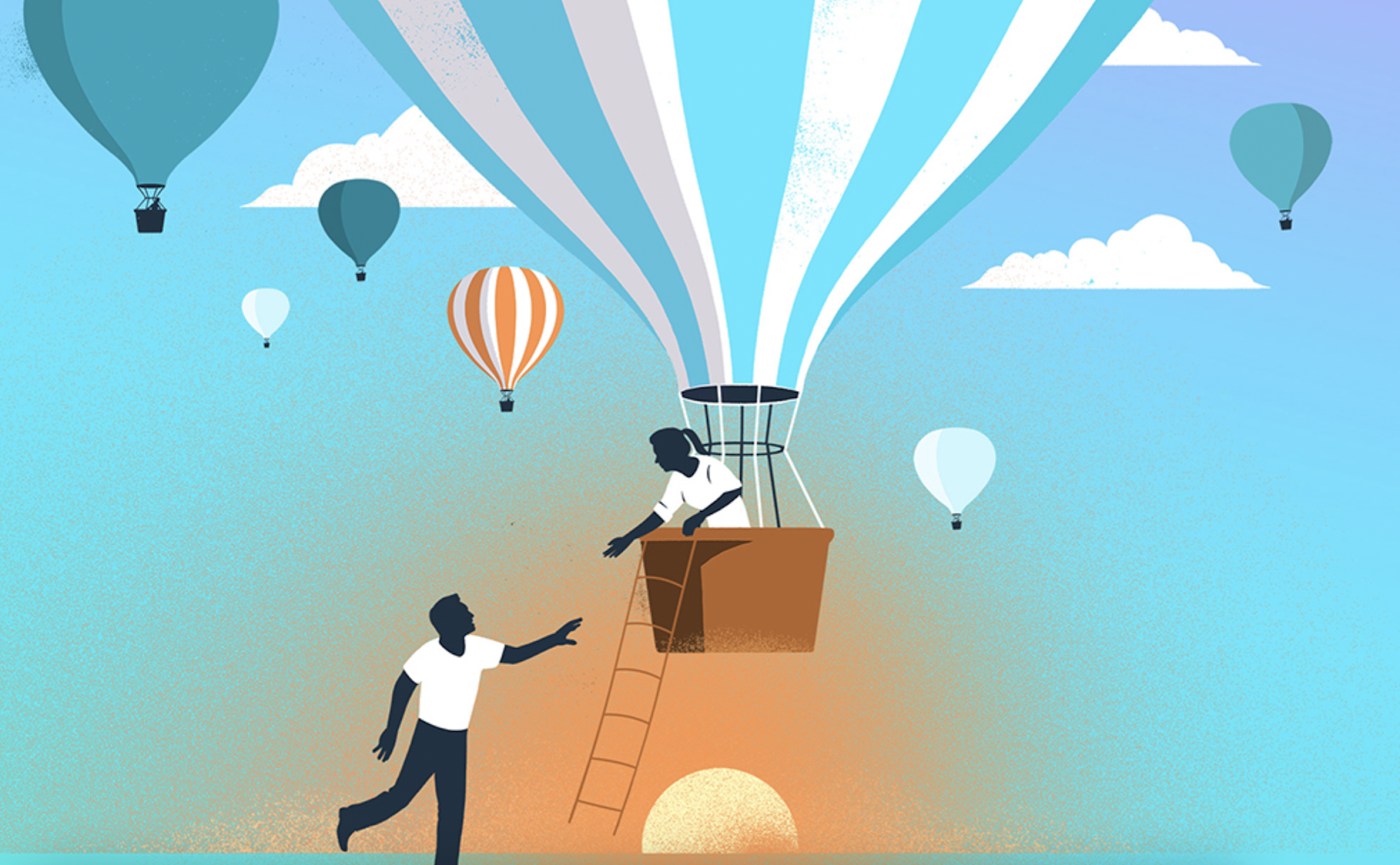 "Employers are ready to get back to significant in-person presence. Employees aren't. The disconnect is deeper than most employers believe, and a spike in attrition and disengagement may be imminent…Employers are underestimating the disconnect and failing to realize that the 'finish line' is a mirage."
With (hopefully) the worst of the pandemic behind us, many employers are charging forward with return-to-office initiatives. For better or worse however, we're not the same people that left the office 2 years ago. 24 months of pandemic has caused many to reexamine their relationship with work: they now have lived experience of being productive while managing personal responsibilities in a new way, and there's no erasing that. Flexibility and commitment to employee wellbeing are now non-negotiables. With over 40 percent of the global workforce considering leaving their employer this year, a considered strategy towards hybrid work will be essential for attracting and retaining diverse talent.
What do we know about employee expectations and the challenges that face successful hybrid work? According to Microsoft's 2022 Work Trend Index, 53% of people are likely to consider moving to hybrid this year. A recent Gallup survey found that 54% of remote employees said they would likely look for another job if they didn't maintain access to flexibility; 38% of hybrid workers said the same.
Microsoft's Trend Index is based on a study of 31,000 people in 31 countries (and analysis of trillions of Microsoft 365 productivity data points) and delivers five key findings:
Employees have a new "worth it" equation – employees are more likely to prioritize health, wellbeing and family compared to before the pandemic. Three of the top reasons people quit in 2021: personal health/wellbeing (24%), work-life balance (24%), lack of flexible work hours or location (21%)
Managers feel wedged between leadership and employee expectations – Over half of managers (54%) feel leadership at their company is out of touch with employee expectations. While 80% of employees feel they are just as or more productive since going remote or hybrid, 54% of leaders fear remote work leads to productivity loss. And while 44% of executives said that they would prefer to work from the office every day, just 17% of employees agreed.
Leaders need to make the office worth the commute – More than a third (38%) of hybrid employees say their biggest challenge is knowing when and why to come into the office. Yet just 28% of companies have established team agreements to clearly define the new expectations.
Flexible work doesn't have to mean "always on" – Since February 2020, the average Microsoft Teams user saw a 252% increase in their weekly meeting time and the number of weekly meetings has increased 153%. Workday length, after-hours and weekend work has grown as well.
Rebuilding social capital looks different in a hybrid world – Employees who have thriving relationships with their team members report better wellbeing, higher productivity, and are less likely to quit. But 'pandemic hires' – those hired since March 2020 – are less likely to feel included, and are at greater risk of attrition (56% versus 38%).
With remote and hybrid work here to stay, how can companies embrace these new expectations and meet employees where they are? Here is a roundup of core recommendations from Microsoft, McKinsey and Gallup. Additional thought leadership and recommendations from other sources are linked below.