Economic Update: August 2023
Change State Economic Update - August, 2023
I hope you are staying cool this summer, despite record temperatures, well, everywhere. What are you cooking, then, when it's too hot to turn on the stove? A viral pasta salad, perhaps? If you are in need of inspiration, however, I've got a recipe for you. Salmorejo, gazpacho's southern Spanish cousin (superior, in my opinion) is filling, refreshing, and simple to prepare. Serve with any other summer sides that you love: a cheese and charcuterie board, olives, green salad, fresh peaches – the options are endless. Enjoy, and…you're welcome.
Oh, we have the economy to discuss, too. Let's get to that.
​
Cheers, 
Nicole
P.S. We are still accepting dog photos, and now also, refreshing summer recipes… 
. Jump to the end of the newsletter if you're looking for salmorejo preparation tips. But first, promise you'll come back and read the rest!

Friday's report showed 187,000 jobs added in July, just under the consensus forecast of 200,000. Spectacular? No. But very solid – in fact the U.S has experienced a remarkable 31 straight months of job growth. Unemployment ticked down to 3.5% in July, nearly a 50 year low, and for favorable reasons as EPOP rose and LFPR held steady in July. The labor force participation rate has now recovered from the pandemic, and the prime-age LFPR is now above its pre-covid high. While 187K may look small after several months of more astronomical growth, it's still 52% better than needed to keep up with population growth.
After two consecutive months of increases, the Black unemployment rate moved back down to 5.8% – a good reminder that there is substantial month-to-month volatility in the unemployment rates by race and ethnicity.
Which industries had the largest gains in July? Health care and social assistance added 87K jobs, construction 19K, leisure and hospitality 17K, and government added 15K jobs last month. "The government is accounting for a larger share of job gains because, with private sector hiring slowing, they finally can compete for jobs," noted Julia Pollak, chief economist at ZipRecruiter. However, the state and local government jobs shortfall remains a valid concern: while jobs did increase by 8,000 in July, an enormous gap remains: 244,000 jobs since 2020, and a whopping 90% of that is in the education sector.
It may seem counterintuitive that the construction industry has posted significant job gains in the last couple of months, given the current status of interest rates. But recent federal government and private investment in infrastructure and green energy projects have been bolstering construction and manufacturing hiring. "Construction employment would have fallen this year absent this investment, rather than just rising slowly," added Pollak.
Some good news for American workers is that wages are still rising. Average hourly wage growth rose 4.4 percent over the year, to $33.74 per hour. Of course, policymakers keep a close eye on wage growth as they look to reduce inflation. However we're seeing inflation continue to fall, and for the last three months income has been rising faster than inflation. Raphael Bostic, president of the Federal Reserve Bank of Atlanta, suggested wages might increase as workers recoup the cost of living, without it being a reason for concern. Other economists have also suggested that with recent improved productivity, wages can increase without impacting inflation.
It's far from an uncomplicated picture, and signs of weakness appear to be in a balancing act with signs of resilience. The number of people working in temporary help services (often an early sign indicating economic downturn) fell by 22,000 in July. In addition, July's report also included significant downward revisions to June and May jobs data. Weather may also be convoluting the forecast this summer. With record heat across the US, much outdoor work may be difficult or deadly and could displace some employment until later in 2023. Wages are increasing, yet employer bargaining power is also on the rise, as evidenced by the decline in labor market tightness. Escalating interest rates deflated tech companies, but newly separated employees then quickly found jobs. Construction slowed along with declining home sales, but new momentum is appearing in light of increased federal funding. The Conference Board reported that consumer confidence rose again in July, and their outlook shows that consumers are increasingly less convinced a recession is in our future. Finally, elevated quit rates during the pandemic have eased, and may prove an important data point to watch during the last leg of this inflation fight: currently only a few industries have quit rates higher than their pre-pandemic norms.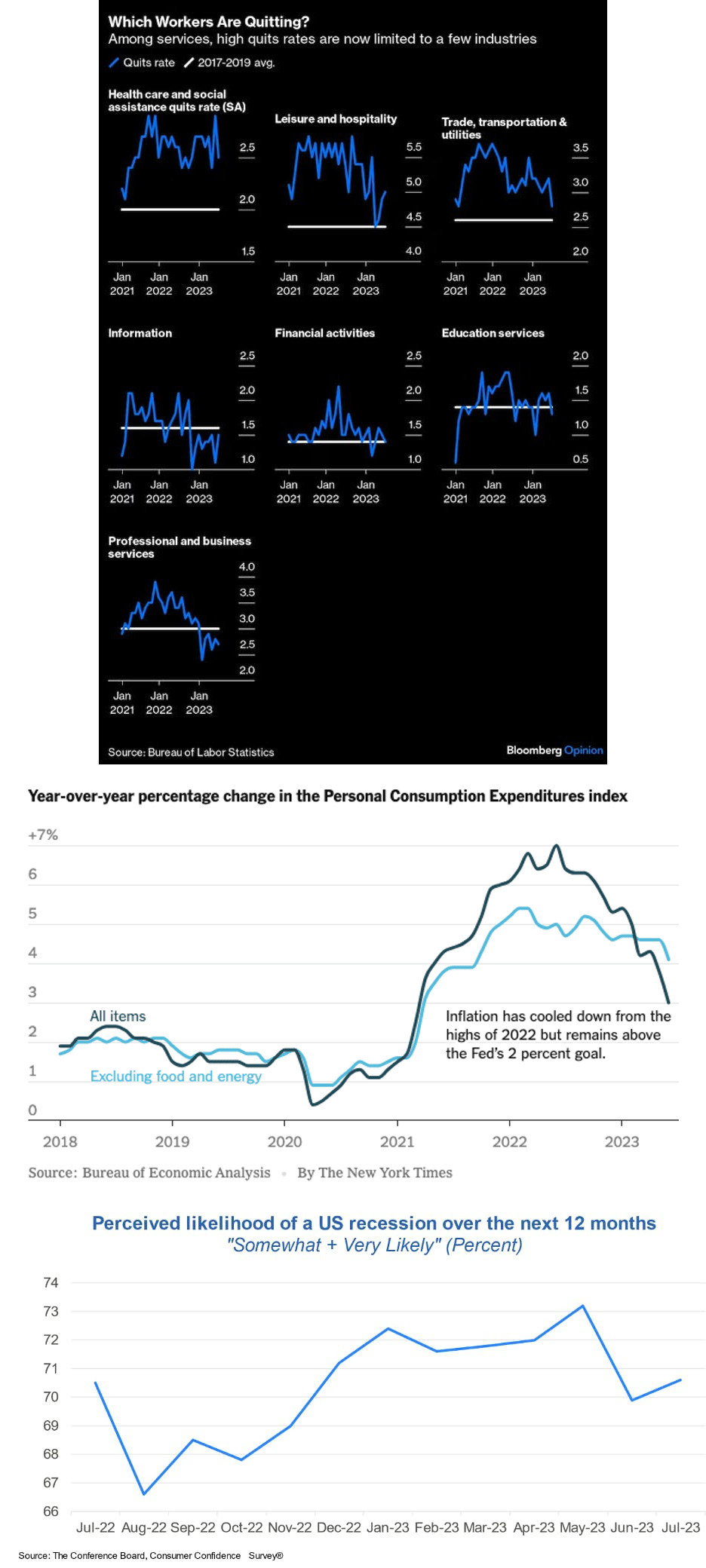 Last month after a brief pause, the Fed approved another rate hike that brought interest rates to the highest level in more than 22 years. Don't look for any hints as to the direction for the next meeting, as the Fed Chair has indicated they will only be making decisions on a month by month basis, as new data emerges. "I would say it's certainly possible that we will raise funds again at the September meeting if the data warranted," said Powell. "And I would also say it's possible that we would choose to hold steady and we're going to be making careful assessments, as I said, meeting by meeting." Fun fact: the Fed has not been this aggressive with rate hikes since the early 1980s, when the US was also fighting extraordinarily high inflation and a faltering economy.
However, there is some data to watch to interpret the Fed's potential next move: signs of labor market cooling in the services industry. Chair Powell has placed particular emphasis on labor market trends within service businesses, as they are more vulnerable to labor costs than goods-producing businesses and therefore more prone to adding inflationary pressure. Fortunately for now, much of the recent labor market cooling is in services.
Yet even today, economists and experts remain split on the possibility of recession in the US future. Some Wall Street banks and the Fed's own staff economists have removed predictions of recession for the US this year. Jan Hatzius, chief economist at Goldman Sachs, also added that while they aren't expecting any further rate moves this year, "it wouldn't take that much to put November back on the table."
Others still believe a downturn is in our future, but it would seem their stance has moderated somewhat in recent weeks: "There will be a recession at some point, but whether it's in the immediate term is becoming less and less likely," noted Jesse Wheeler, senior economist at Morning Consult. "For those who still believe that there may be a soft spot ahead, it's going to be manageable," said Dana Peterseon, the Conference Board's chief economist. She continued: "It's going to be short, it's going to be shallow, so they're not going to shed a bunch of workers."
Several months ago, a good news jobs report read more like "bad news": inflation remained stubborn and seemed unlikely to come down, and jobs growth was surprisingly hot. Now with inflation showing signs of cooling and a return to modest economic growth, perhaps a "goldilocks economy" is a welcome sign.
"We are closer to normal now. It makes it seem like good news is good news again — and that's certainly how investors feel. But the more that good news becomes good news, the higher the likelihood of a recession."
​Michael Strain, director of economic policy studies at the American Enterprise Institute​
​(Sources: Economic Policy Institute, Bloomberg, Forbes, US Department of Labor, The Washington Post, Bureau of Labor Statistics, The Wall Street Journal, JP Morgan, CNN, LinkedIn, The Hill, New York Times, The Conference Board, CNBC, US News, NBC News, Yahoo Finance, Reuters)
What else for August?
(Sources: Economic Policy Institute, Harvard Business Review, Starred, Employee Experience Magazine, Gartner, CBS News, Deloitte, HR Brew, The Washington Post)
Looking for salmorejo tips? I lived in Seville, Spain for a time and here are some tweaks I make to the linked recipe for both simplicity and flavor:
Be sure to use a powerful blender for a smooth consistency
Use best quality tomatoes, but plum and roma are the easiest to seed (don't skip that step)
Letting the tomatoes, onions, and garlic steep in hot water mellows the flavor and avoids the need to skin the tomatoes (no one can be bothered to do that). You can use an electric kettle so you don't have to turn on the stove
Don't steep the bread with the tomatoes – unless it is very stale it will disintegrate – just give fresh bread a solid dunk in the liquid before popping it in the blender
Sherry vinegar is essential to the flavor profile – it's worth the effort to find in the store
You don't *really* need to measure the oil. Best practice is to blend the vegetables and bread first then, very slowly, stream in the olive oil while the blender runs. You'll know it's ready when it turns from a pale red color to a beautiful orange/salmon color.
Make sure to chill for 3-4 hours before serving. It should be cold! Also always a good idea to wait to add more salt after it has chilled and the flavor has settled, some
If you can't find Iberico ham, crisp up some prosciutto in the microwave as an alternative
Enjoy and tell me if you make it!