Economic Update: January 2023
Change State Economic Update - January 2023
Happy New Year! We hope 2023 has started full of promise and opportunity for you. 2022 was a rather tumultuous year: soaring inflation, an intensely competitive labor market, and new supply chain shockwaves induced by Russia's war in Ukraine (to name but a few). The future for this year is uncertain, but there is reason to be hopeful things will stabilize given some promising early indicators which we'll discuss in more detail.
Please find below your economic update for January. And if you enjoy chatting about new labor market trends and analysis – please join us for our next virtual networking event featuring Lightcast on February 9th: Who is Going to Do the Work? How the Demographic Drought Will Reshape America. Invitations coming, soon!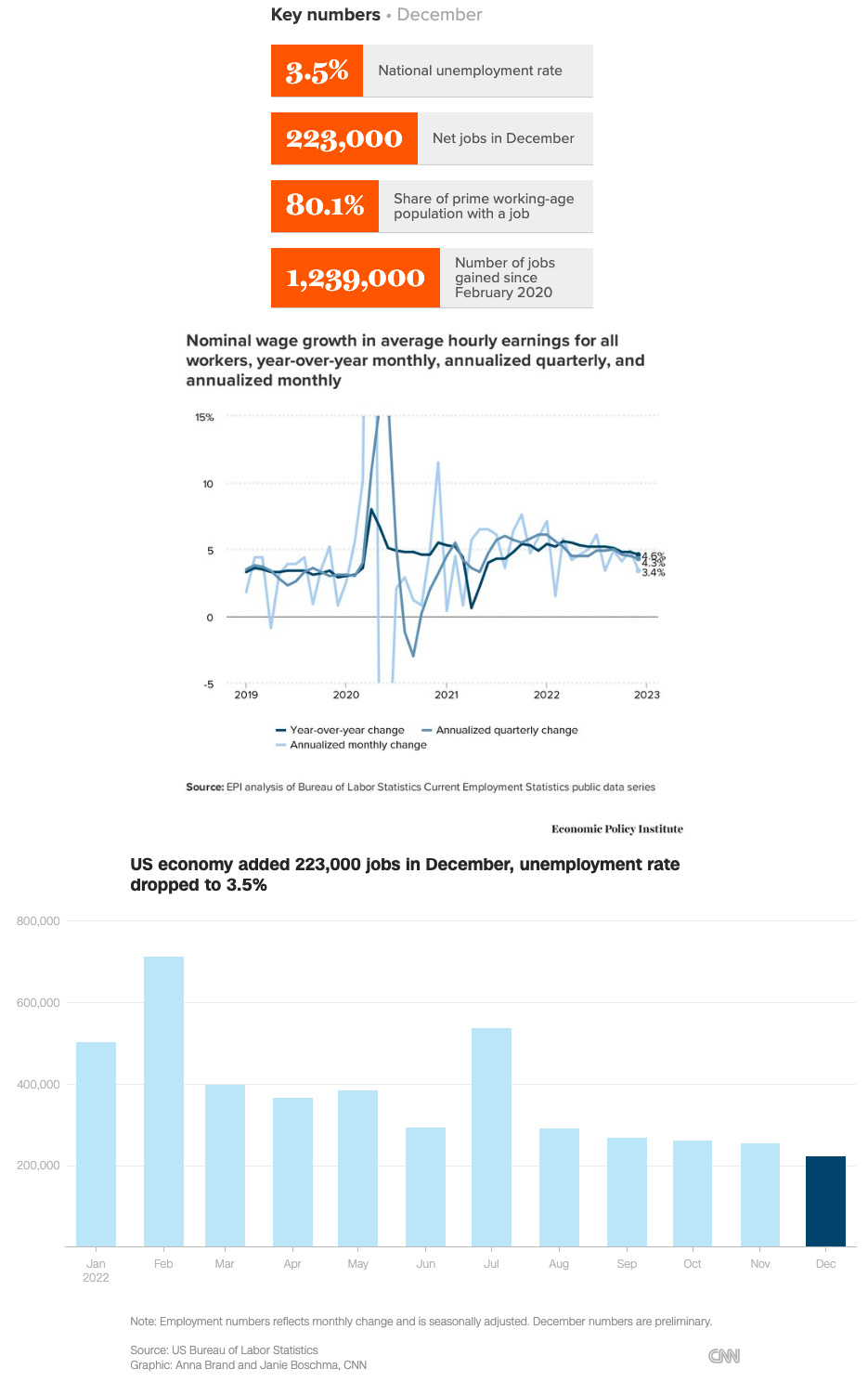 The US economy added 223,000 jobs in December, surpassing economist expectations, and capping off another record year of job gains. In fact, 2022 was the second-best year for the labor market since 1939, adding 4.5 million jobs, and trailing only behind 2021's 6.7 million gain. Unemployment ticked down to 3.5% for "good" reasons – as both labor force participation rate and employment rose (rather than an increase in individuals opting out of the workforce). These are auspicious signs, as in 2023 the Fed will continue to look for a softer labor market, and an increase in LFPR and less drastic wage growth fit part of that picture. While the labor market appears to be moving in the right direction, many economists feel it is not time to celebrate just yet. Others disagree, arguing that as December's annualized monthly wage growth was only 3.4% (therefore not a core inflation driver), it's likely the Fed's work is done.
While job growth overall has been remarkably strong, the finance and professional services industries actually shed jobs between November and December, likely an effect of mass layoffs in the tech industry. Progress against job deficits post-pandemic remain uneven: the private sector overall has added back 108% of jobs lost in the Covid downturn, but the public sector has only bounced back to 70% of pre-covid levels. And while December's report does show modest gains, notably half that current deficit exists in the education sector – not a good sign for the nation's teacher shortage. Recent job loss and gain analysis has also revealed an interesting tug-of-war playing out between larger and smaller employers in the last year. Large employers were winning out earlier in 2022, in light of being able to offer greater salaries and benefits. But with the accumulation of layoffs in Q3 and Q4, smaller companies began to reap the benefits: large employers cut 151,000 jobs in December, while employers with fewer than 500 employees added nearly 400,000 new jobs.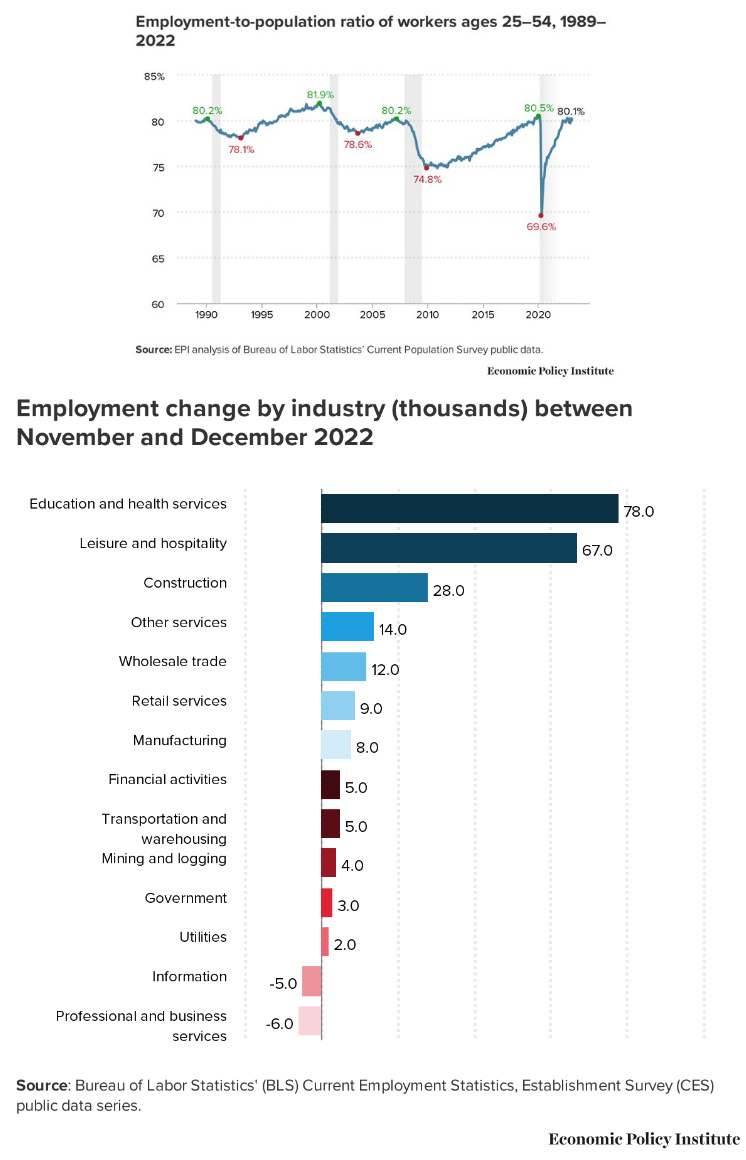 A final encouraging sign from December: we now see that both the payroll and household surveys show promising data, after conflicting for the last several months (a trend indicative of coming labor market inflection, as we discussed in last month's newsletter). Beyond an increasing LFPR, and modest wage gains, we also see prime-age employment to population ratio rising again. Yet the future remains anyone's guess, given a labor market unusually resilient and yet slowing down. Such conflicting forces complicate the path forward for the Fed. Having raised interest rates 7 times in 2022 (and likely 2-3 times again in 2023 to prevent inflation from settling too high), will they slow the pace of hikes, heartened by more moderate wage gains last month? Many think so. Most experts do not believe, however, that the Fed will completely pivot and abandon the plan for continued rate hikes. We'll know more at the first Federal Reserve meeting of 2023 at the end of this month.
"I don't think anyone knows whether we're going to have a recession or not — and if we do, whether it's going to be a deep one or not… It's not knowable."
(Sources: Economic Policy Institute, CNN, Center on Budget and Policy Priorities, The Washington Post, The Wall Street Journal, Forbes)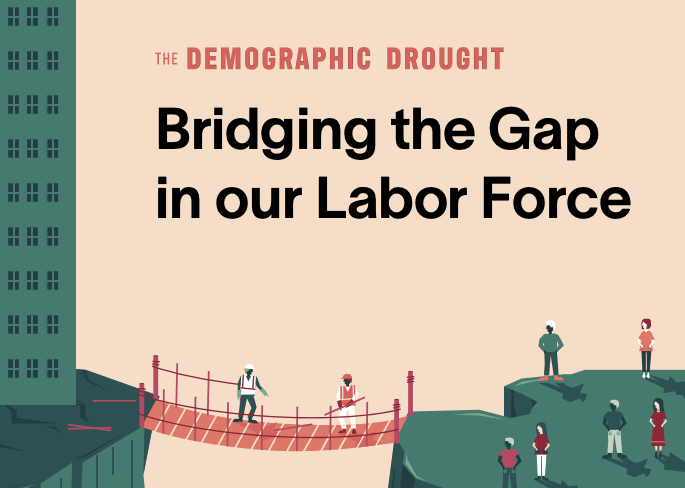 What else for January?
(Sources: Economic Policy Institute, Lightcast, LinkedIn, Business Insider, The New York Times, Stanford News)