Economic Update: July 2022
Change State Economic Update - July 2022
For those of you who I haven't had the pleasure of speaking with just yet, hello! I'm Nicole and I'm the newest member of the Change State team. I've recently come on board to serve our clients and support our growing business through operations and process efficiency. So while I've still got my training wheels on (so to speak), there is a lot of activity going on in the background and we have some exciting new developments in the works – stay tuned!
For now, we're launching this monthly economic update as a way to keep our clients and partners updated on some of the economic factors influencing the talent space, and share some interesting "did you know" facts for you to whip out at cocktail parties. And as always, please get in touch with any feedback or changes you'd like to see as we develop this newsletter over time.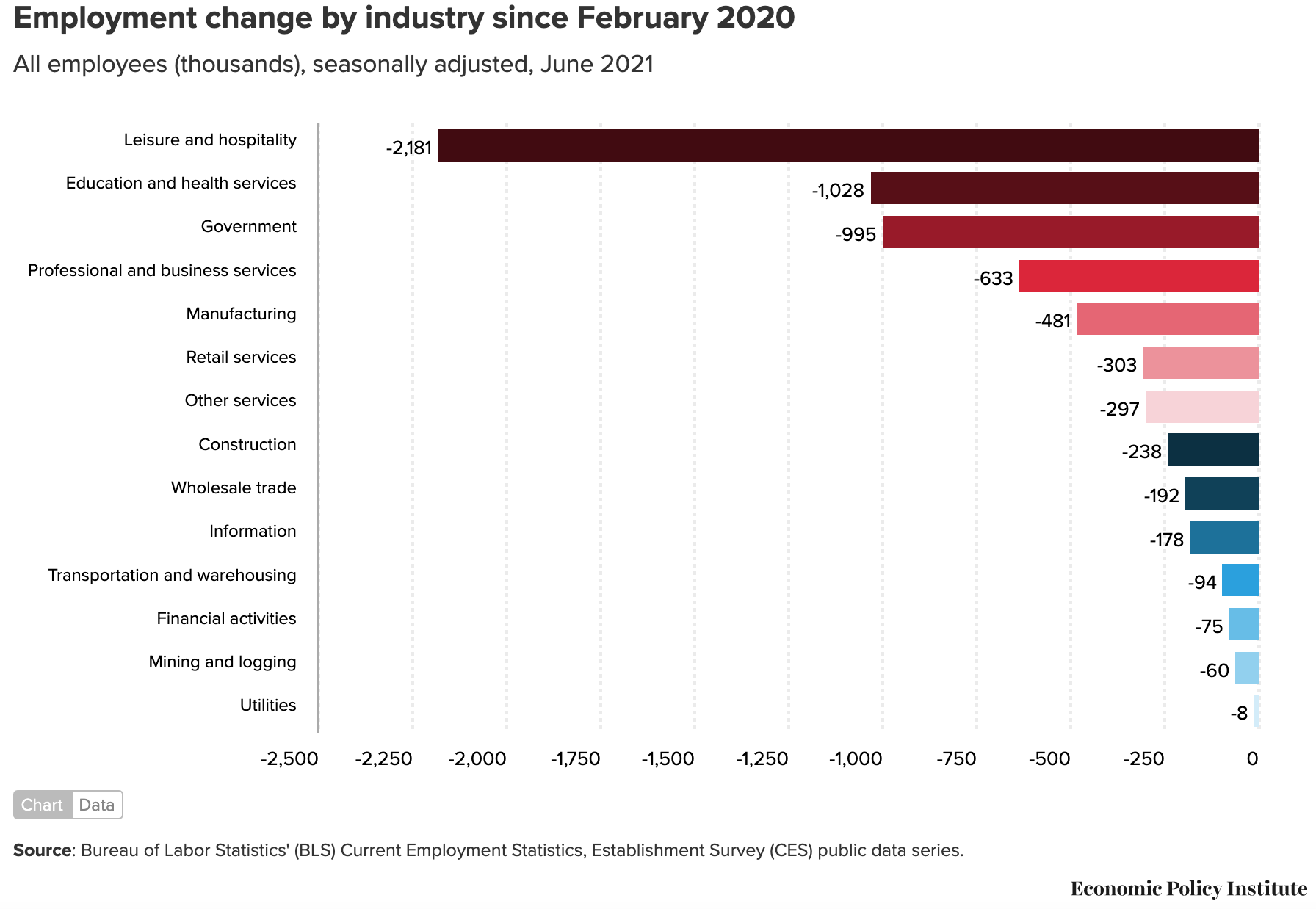 Even so, the leisure and hospitality sector remains one of the hardest hit, with overall employment well below pre-COVID levels.
Finally, the stigma against long-term unemployment continues to have a lasting and detrimental impact to out-of-work job seekers. Long-term unemployment is rising and 2.9 million workers have been out of work for at least a year, an increase of 248,000 over May 2021.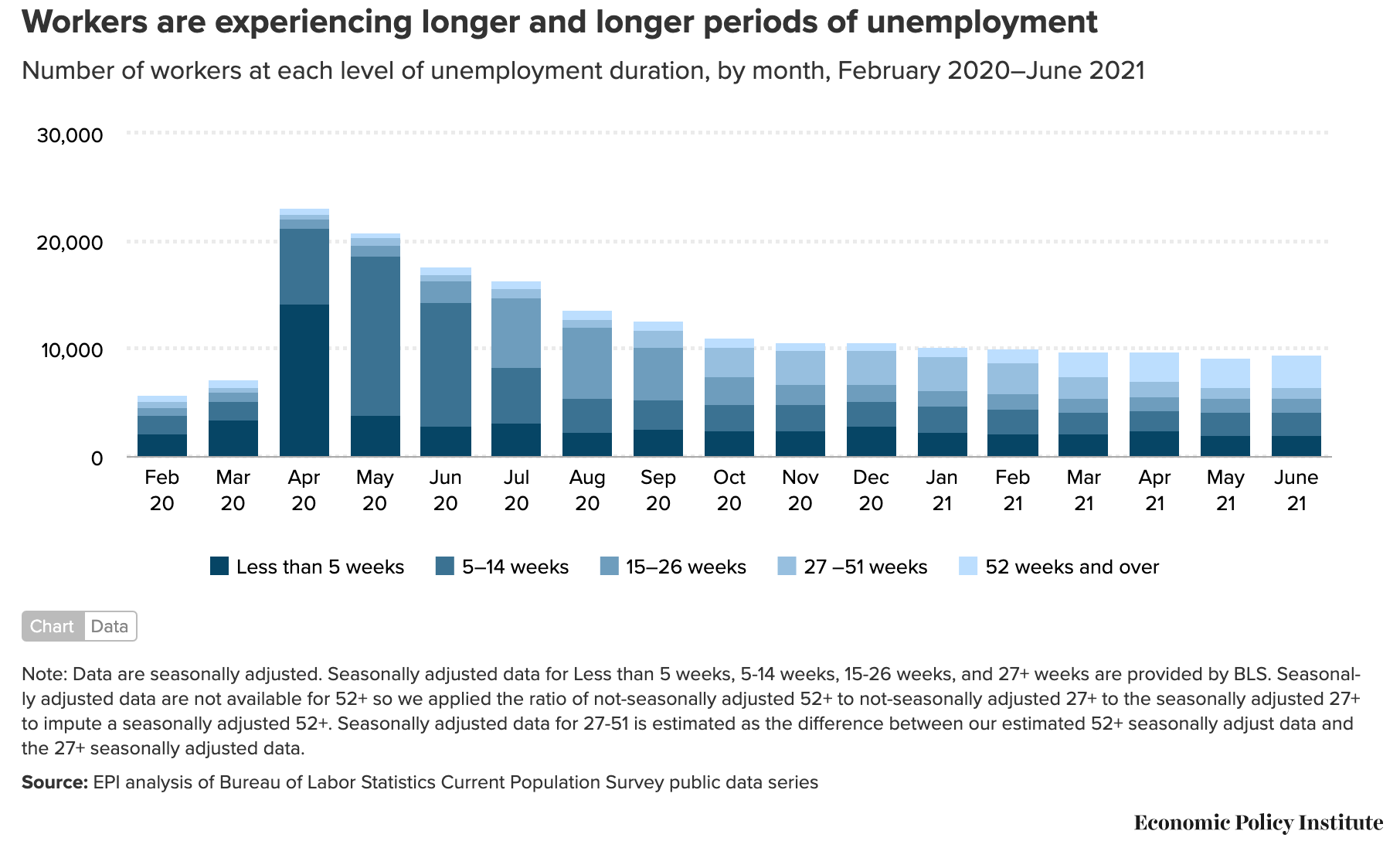 At current course and speed we could see a complete labor market recovery to pre-COVID levels by the end of 2022, nearly 5 times faster than recovery after the Great Recession. (Find excellent Twitter threads from economists at the Economic Policy Institute here and here for more context and commentary on June's labor report).
(Sources: Wall Street Journal, Bureau of Labor Statistics, Business Insider, Economic Policy Institute)​
If you haven't read it already, EMSI put out a rather sobering report earlier this year on the rapidly shifting labor market. Titled The Demographic Drought, it offers startling insights and coins a new term, "sansdemic", to refer to a vanishing workforce.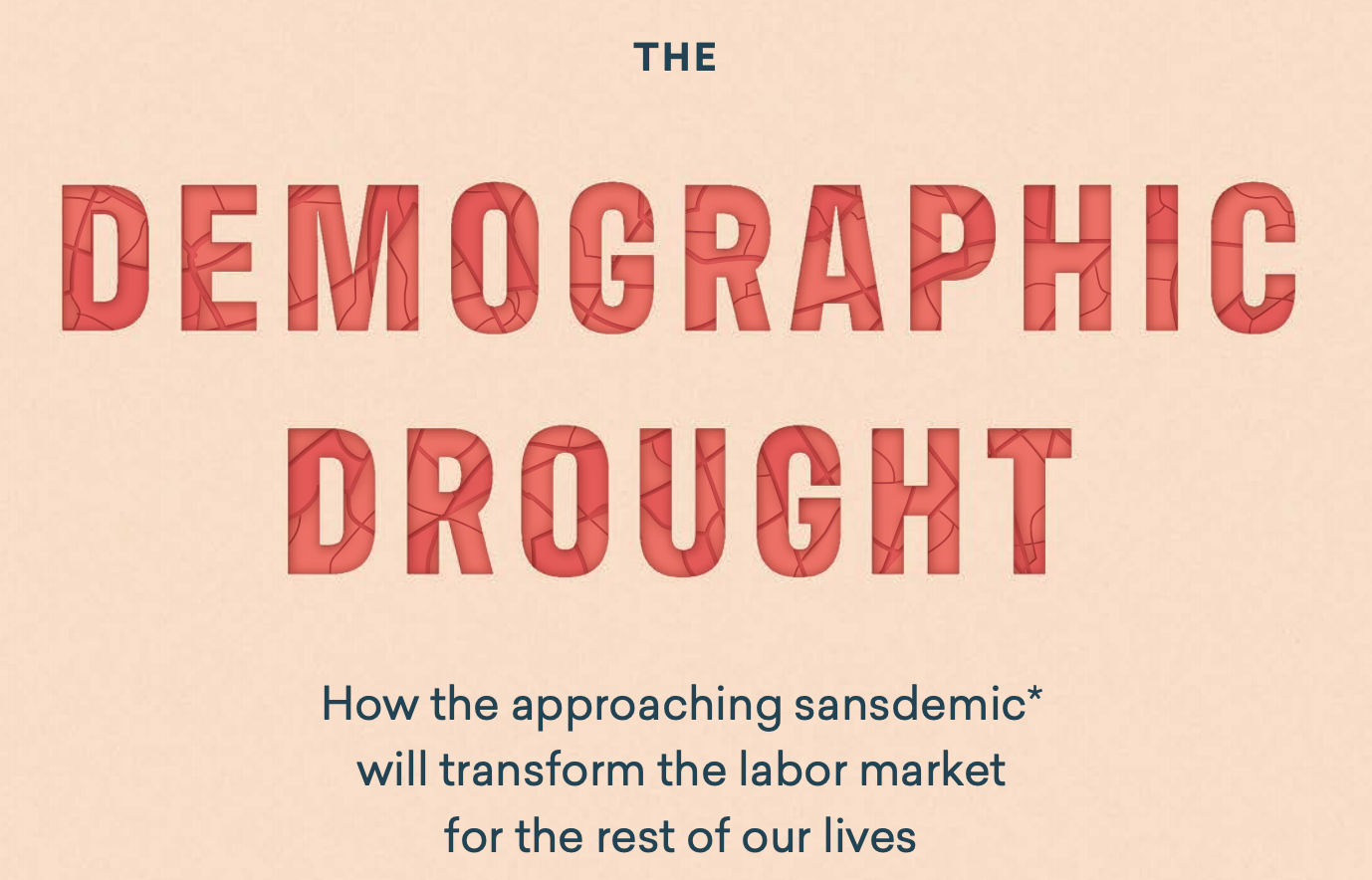 Much has been written on today's labor shortages, however the authors showcase how the pandemic merely advanced existing trends that have brought us closer and faster to a precipice that has been in the works for decades. While many are aware that fertility rates across the world have been plummeting, EMSI points to two additional factors that the pandemic has accelerated:
Mass exodus of baby boomers from the workforce – not staggered, but all at once
Record-low labor force participation rate (LFPR) means that the children and grandchildren of boomers are also voluntarily opting out of the workforce
While boomer fertility rates did decrease over the previous generation, the authors suggest that boomer affluence may have also had a significant impact on the LFPR's decline. Boomers represent the wealthiest generation in America's history, and many of their children took advantage of this safety net to postpone many important life milestones, such as marriage or getting a first job. Some other interesting facts:
The eye-popping statistic that well over 2 million women left the workforce between 2020-2021, has been fairly well reported. However it seems few have been paying attention to another shocking figure: the number of prime age men (25-54) opting out of the workforce has escalated drastically since 1980
An increase in opioid prescription rates has been linked strongly to decrease on LFPR, and "in 2015 alone, a staggering 860,000 prime age men were absent from the labor force due to opioids"
Many prime age men have made a marked shift towards part-time work and men worked 200 less hours in 2015 than in 2000. What to do with all that extra time? Video games! Notably, EMSI reports that the decrease in "hours worked for men ages 21-30 exactly mirrored the increase in video game hours played"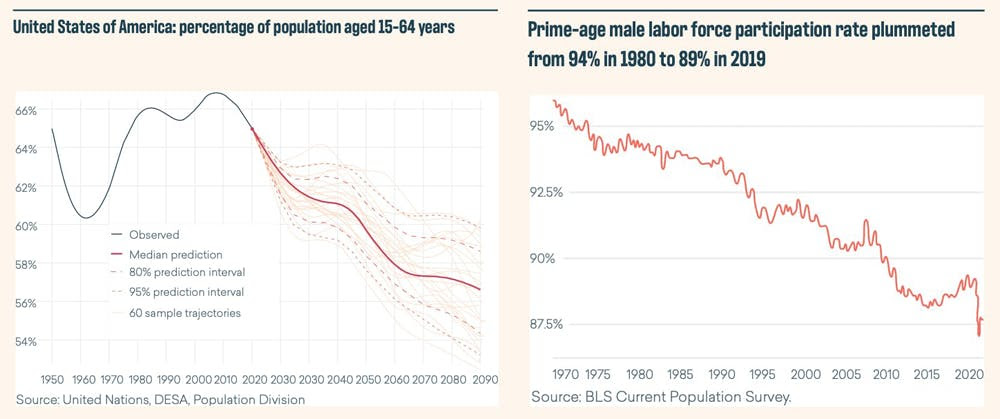 Population decline is an issue too complex and systemic for any one solution to reverse its trajectory. Immigration may stem the tide for a time, but fertility rates are declining worldwide, and as developing nations work to increase opportunity for their people, less will be willing to migrate. The authors suggest that those organizations that creatively plan for this reality now will fare better, and they offer some suggestions:
Talent acquisition should follow the example of higher education which has been targeting non-traditional students for some time now and focus on potentially overlooked talent pools including those nearing retirement age
Both older and younger employees have new expectations of the employment agreement – adapt accordingly
Pay close attention to what's happening in Japan and Western Europe as an early warning system on the reaching impact of population decline
Upskilling and reskilling will become more important than ever as companies will need to attract older workers and focus on building their talent base rather than recruiting from an ever-dwindling pool of qualified candidates
​The authors conclude with a reminder that now, more than ever, we can't take our greatest resource for granted:
Every student, every employee, every potential employee is valuable.
 You can download your own free copy of the e-Book here.