Since the introduction of Google for Jobs and programmatic advertising engines, the way job postings are distributed across the Internet has changed fundamentally. Gone are the days when a few prominent job boards were "destination" sites from which the vast majority of candidates launched their job searches. In fact, some 70-80% of job searches now start on Google.
For organizations with modern ATS's and the resources to optimize their job feeds for indexing on Google, this has become an excellent new source of organic job traffic. Unfortunately, many organizations lack the technology or know-how to do this, which has created an opportunity for profiteers. 
Setting up a viable "job board" no longer requires any special knowledge of TA or recruitment, but simply the ability to effectively optimize job content for consumption by Google, which generates job seeker traffic that can in turn be sold to employers. As a result, thousands of new job boards have sprung up seemingly overnight — many scraping jobs en masse from public career sites — creating a competitive "marketplace" for buying and selling job seeker traffic in the process. 
In many ways, this has been a boon for employers seeking cheap clicks and applies, as job traffic, much like pay-per-click traffic in the consumer advertising space, has become commoditized. The usual dynamics of supply and demand apply: Sites with a glut of job seeker traffic are typically willing to sell clicks (and applies) for less than sites with limited job seeker traffic, and the savings are (generally) passed along to the employer.
Simple enough, right? Yet In practice, things get complicated quickly, as job boards also sell this traffic to each other, in addition to selling traffic to the end buyer (the employer). This could mean Job Board A may buy cheap traffic from Job Board B, and then resell it at a premium to Job Board C, who then eventually sells that click or apply to you, the employer.
Often this occurs entirely behind the scenes, with employers and job seekers none the wiser. Savvy Internet users may notice that, upon clicking a job in Google, the URL in their address bar "redirects" (that is, changes) a few times before the candidate is finally routed to the destination ATS or hosted lead capture form. These redirects are essentially the public-facing "signal" that the traffic is being bought and resold multiple times before landing at the final destination.
Unfortunately, this leveling of the playing field has also lowered the barrier to entry for less reputable job boards that play fast and loose with candidate experience in an effort to capture leads for their own purposes. What do we mean by fast and loose? Examples include:
Failing to maintain up-to-date job feeds, sending candidates on wild goose chases that end with a "job no longer available" messages

Scraping and advertising jobs on behalf of major employers as "bait" to get candidates to come to their site and create profiles. In the most egregious cases, the sites use corporate logos and imagery to create the perception (deception?) that the candidate is submitting an application directly with the employer, when in reality, they're simply providing their contact information to be reused by the offending job board

Redirecting clicks from the job a candidate originally clicked to job for a different company or department – in essence, using one company's employer brand to generate traffic for a different/competing company 
Regardless of the flavor, the result is a poor candidate experience that job seekers may attribute to the employer (and its brand), often completely without the employer's awareness. 
Case Study: CVS Retail Store Associate Jobs
To help illustrate the issue, consider the following job posting for Retail Store Associate with CVS through the lens of the candidate experience. To start, the candidate searches for "CVS Cashier Jobs" on Google…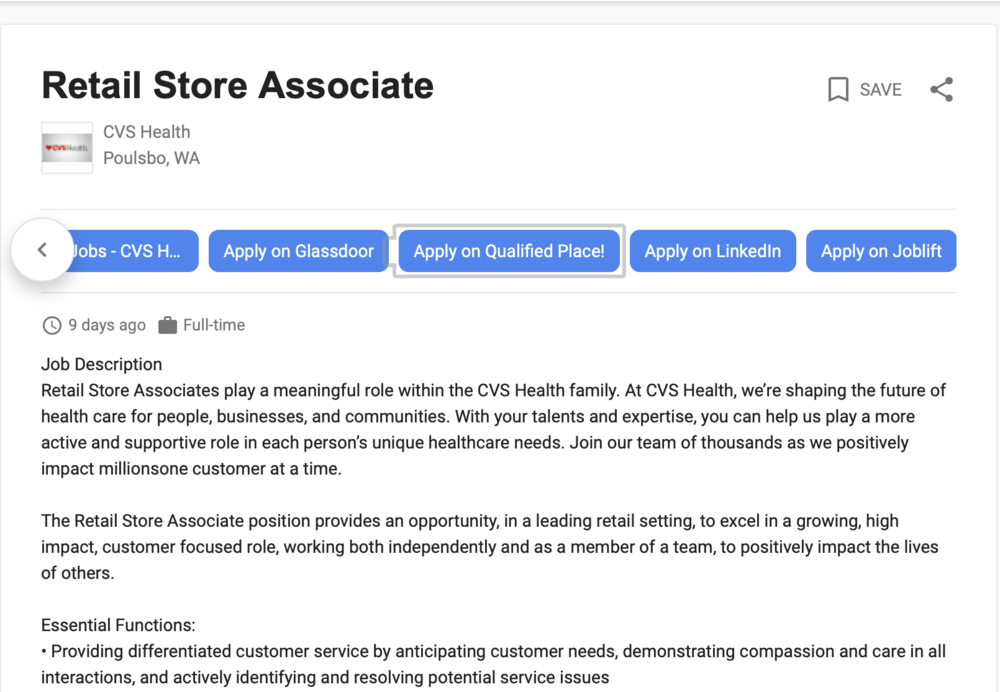 The search returns a posting for "Retail Store Associate" — so far so good. But things get complicated quickly. The candidate has a choice to make: Which of these five different job boards do I want to use to apply for this position?
Many won't know or have a clear preference, meaning their candidate experience starts with a choice that has little to no relevance to them. Worse, depending on which job board the candidate chooses, they can have drastically different candidate experiences.
A candidate who clicks "Apply at Qualified Place!" — a site with which neither the candidate nor the employer may have a relationship — is directed to the following website, a European job board that is somehow posting jobs for roles in Poulsbo, WA…which is…not in Europe.. Huh? Confused yet? We sure are.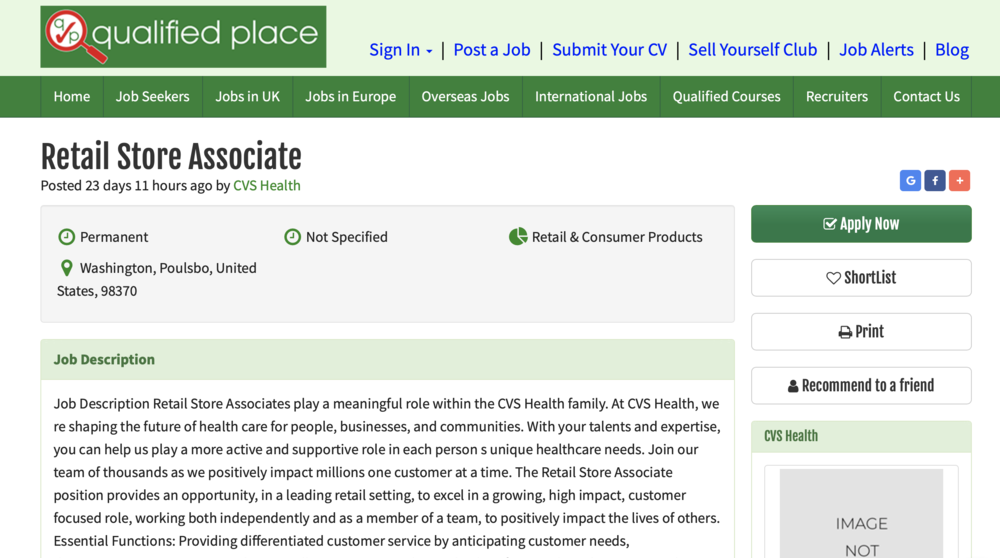 Moreover, the candidate has already clicked apply once on the Google for Jobs page, and now has landed on this secondary landing page, which prompts them to click "Apply" once again. What happens next?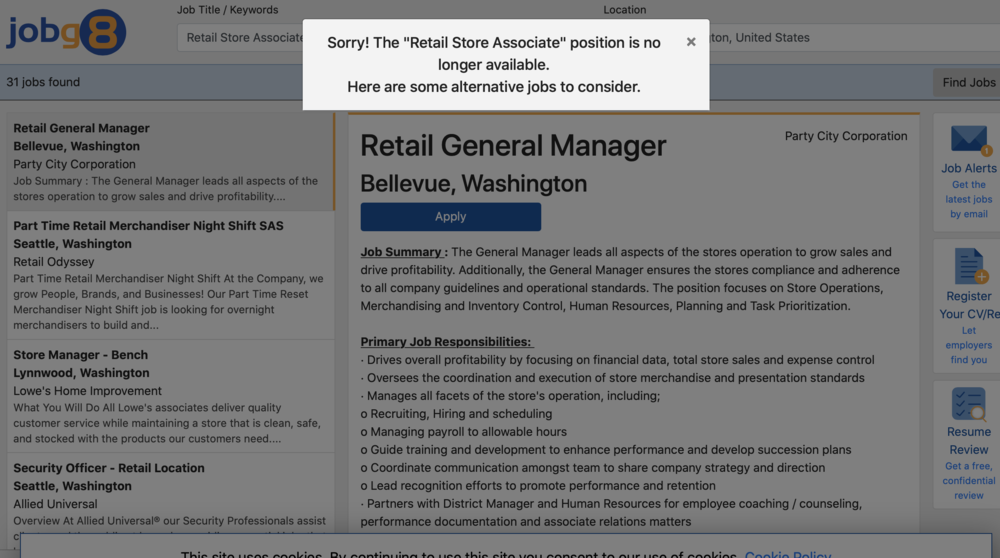 The candidate is redirected to yet another non-descript job board ("JobG8"), only to be told the "Retail Store Associate" position is no longer available. 
Subsequently, this same entry-level candidate is presented with a "Retail General Manager" position for an entirely different company (Party City Corporation), for which s/he is most likely neither interested nor qualified. In other words, a dead end.
While the experience itself is clearly less than optimal, the implications for the employer's brand is what really keeps us up at night.
To whom does the job seeker attribute this poor experience? Google? CVS? Qualified Place? JobG8?

Does the employer even realize this is happening?

Is this the kind of experience they want their brand to be associated with?
While it's impossible to quantify the cost of such a negative candidate experience on the employer brand, this is a stark reminder that cheap clicks/applies can come at a steep price. 
What Can Be Done?
Sadly, keeping an eye on which job boards are posting on your behalf can feel like a game of whack-a-mole. At Change State, we conduct regular job traffic audits for our agency of record clients and proactively reach out to offending job boards to request (or demand) they remove our clients' jobs from their sites. We also request access to any leads these sites are collecting in response to our clients' job postings.
Secondly, we make sure our clients programmatic campaigns are appropriately managed to ensure they're only purchasing traffic from a thoroughly vetted list of trusted job board partners, ensuring a consistent candidate experience.
We also encourage our clients to think beyond Cost-Per-Click and Cost-Per-Application when evaluating source performance. A cheap click may be good for the bottom line in the short term, but for organizations who are serious about their employer brands, it must be evaluated in the broader context of the candidate experience.
Curious about how to conduct a job traffic audit for your organization? We're always happy to chat. Contact us today.