We've written at length about the value of an employer brands to an organization, yet the project of quantifying the ROI of a strong employer brand remains frustratingly elusive. This is partly because employer brands influence a business's bottom lines in many indirect ways, perhaps most notably by supporting their consumer brands. Moreover, because an employer brand is expressed through so many different touch points across every stage of the prospect -> candidate -> employee -> alumni journey, it's often impossible to draw a direct (that is, causal) link between a strong brand and any specific financial outcome, whether it be increased revenue, decreased expenses, or both.
An easier question to ask is how an employer brand specifically influences talent acquisition costs. Most would readily agree that having a good reputation among employees and prospects (e.g., a strong employer brand) is likely to make recruitment and retention easier, which of course *should* save talent acquisition teams time and money. But how much money? 
Recent stats by Appcast in its 2019 Recruitment Media Benchmark Report offer an intriguing starting point. Specifically, employers with Glassdoor ratings of <3.0 have apply rates ranging from 2.4-4.3% while employers with Glassdoor ratings above 3.0 see apply rates as high as 6.6%. These absolute numbers are small, but on a percentage basis, the data suggests that strong(er) employer brand are correlated with increased apply rates – perhaps 50% higher or more. Which got us thinking: how much money does this theoretically save an organization?
Consider Acme Industries, which just launched a campaign to hire 500 customer service representatives. Acme's TA team knows it typically takes around five applications to source a single hire, which means it will need around 2,500 applications to fill 500 roles. And the apply rate – which again is correlated with the organization's Glassdoor rating – will dictate how many clicks Acme needs to generate a single apply. For instance, a 2% apply rate means they need to source 50 clicks for every successful application submission.
All that's missing now is the average cost per click (CPC) for customer service roles, which again thanks to Appcast, we know to be around $0.69. Putting it all together, we can now estimate some ballpark costs for filling these 500 roles and even better, project how the costs will vary depending on the organization's Glassdoor rating.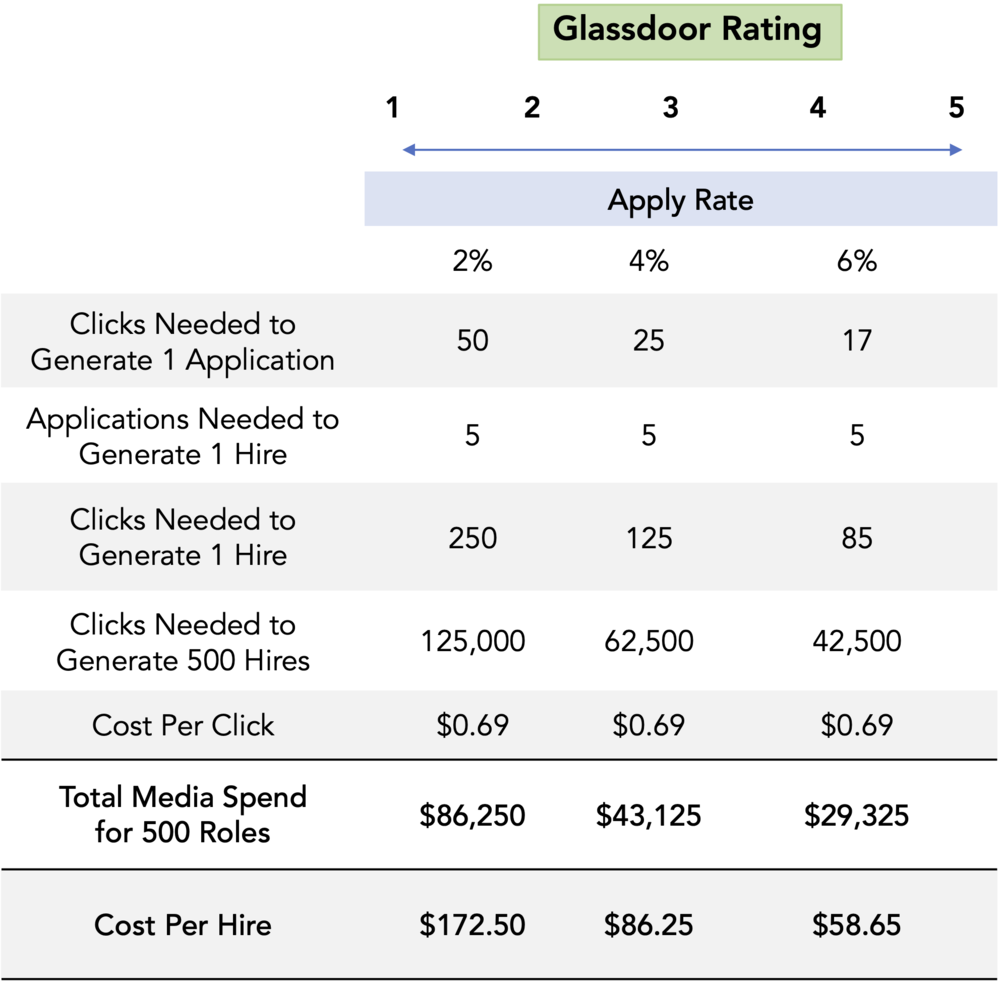 From the table above we immediately see a poor Glassdoor rating (2 or lower) could end up costing Acme an additional $50,000 or more to fill these roles (or more than $100 extra per hire) than it would cost a company with a Glassdoor rating of 4 or higher. This alone is a pretty stark illustration of the ROI of a strong employer brand, and there's good reason to suspect the savings are even greater:
This example assumes the apply:hire rate (5:1) does not vary by Glassdoor rating. We lack the data to disprove this assumption, but our anecdotal experience suggests that employers with weaker brands (and less friendly candidate experiences) are likely to suffer the effects of lower conversion rates throughout the funnel, not merely at the top. 

Additionally, apply:hire rates vary by roles. Professional roles see app to hire ratios of a much wider magnitude —it's not uncommon for companies needing to see 30 to 40 applications to yield a hire. 

Along these same lines, lower conversion rates across the funnel mean more labor hours and effort required to move candidates through the hiring process, which itself could dwarf the projected savings in media spend.
We're Here to Help
Do you have questions about how your Glassdoor rating may be affecting your candidate sourcing costs? We're happy to hop on a call to run an initial analysis using your company's metrics. Contact us today for a free consultation.